Tabbers Labelers
Take advantage of Shape-Based Pricing postal discounts and automate your mail operations with time-saving labeling and tabbing technology.
When it comes to meeting your labeling and tabbing needs-and staying abreast of the latest USPS® regulations-you can count on FP Mailing Solutions to provide the right solutions. In fact, with FP Tabbing and Labeling Systems, you can effortlessly take advantage of Shape-Based Pricing postal discounts and apply address labels and tabs to your mail pieces with ease and efficiency. In addition, every product boasts three critical "must-haves in labeling and tabbing systems: incredible speed; versatility to accommodate a range of materials; and durability and toughness for long-life operation.

FP ATS-8000
This fixed-speed, single tabber gives you all the advantages and cost savings of high-speed tabbing in one compact and economical unit. Every tab — paper, translucent, or clear — is a tight, secure seal, which helps to meet USPS® requirements. Its exceptionally large 17.0″ material width capacity is unmatched in the industry.

FP ATS-309
Whether it's side-to-side or single tabbing, the ATS-309 tabbing machine will make your job more productive and efficient with speeds up to 25,000 pcs./hr. It also meets the newest postal regulations to ensure accuracy every time.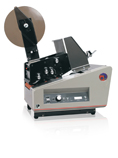 FP ATS-9600/9700
Unlike most tabber in their class that can only output paper tabs, the fast and versatile FP ATS-9600 high-speed labeler/tabber and FP ATS-9700 labeler/tabber/stamp affixer handle up to 25,000 pcs./hr. on a typical tri-fold mailer. These units apply clear, translucent, or paper tabs with ease in a variety of tab sizes, and can apply labels over 4.0″ wide. Tab rolls keep jobs running longer. The FP ATS-9700 applies USPS® pressure-sensitive roll stamps on pieces up to 9.5″.
FP ATS-9800
Apply one or two tabs with this pin-feed, dual tabber — and get more done in less time! This versatile and affordable model offers doubletab throughput speeds of up to 22,000 pcs./hr. on tri-folded mailers. The built-in feeder runs a wide variety of materials up to 1/8″ thick and has a detachable hopper so it can even be used in-line.

FP M-1
The FP M-1′s fixed printhead has over 70,000 nozzles producing sharp graphics at 1600 dpi and print speeds up to 12 inches per second. The M-1 not only increases productivity with speeds up to 9,000 pcs./hr., but is built to last.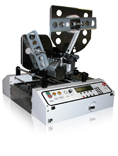 FP ATS-8900
This multiple tabber/stamp affixer is the only machine available in its price range that tabs 1 to 3 tabs or stamps in-line. Capable of handling medium range production consistently, reliably, and quickly, it works at speeds of up to 25,000 pcs./hr., placing accurate and tight closed tabs. Friendly firmware enables easy setup and smooth operation.