10/11/21: Special Pricing on FPi700 Folder/Inserter
For a limited time the FPi700 folder/inserter is only $99.00 per month to lease or $4,495.00 to purchase (includes 90 day warranty). Click here for more information on the compact FPi700's capabilities.
8/13/21: Postage Rate Change on August 29, 2021
A postage rate change is coming on Sunday, August 29rd, 2021. Please follow instructions linked below to update your postage machine before you leave the office on Friday. The link also contains information on which rates are changing and by how much. https://www.fp-usa.com/rate-change
11/2/20: Autumn Specials
We running two specials for the fall: Free shipping on any order placed through this website and special low rates on our folder/inserters. Please contact us with any questions. 609-927-6835
3/19/20: COVID-19 Update
Dear 360 Business Solutions/FP Mailing Customers,
At 360 Business Solutions and FP, we believe it is our role and responsibility during this time to prioritize the health and well-being of our customers and employees. We know this is an unsettling time and our hearts go out to all those impacted by COVID-19.

With our priorities in mind, our intent is to remain fully operational and continue to provide you with uninterrupted service, so we and FP have made some changes in order to accomplish this. We will be available via phone and email any time. If you have a technical issue, we will do all we can to troubleshoot it over the phone, reducing visits to offices, so please call us when standing in front of your machine. Supplies can be ordered phone, email, or online and shipped out to you. We accept credit card for payment over the phone if that's easier than processing checks for you. FP also offers several ways to fund your postage, check your postage balance, and pay your bills online at MyOneFP.com. To fully utilize this service, you may need some information about your account- please call if you're unsure where to find this information.
Stay safe and sane. We look forward to a time we can see you all again. Thank you for your continued business.
USPS Rate Change- Sunday January 26, 2020
You may download the rate a few days before 1/26.
Please click here to be redirected to FP's website for full details and instructions.
8/22/19
FPi-600 on Sale!
Normally $125 per month, the FPi-600, our most compact, affordable folder/inserter is now only $75.00!!!
10/5/18
Special on FPi-600 and FPi-2325 Folder/Inserters
Starting at just $99 per month for lease. Outright purchase options also available. Please call us for details!
5/1/18
Special on FPi-600 Folder/Inserters
We have a very lightly-used (less than 500 passes!) FPi-600 Folder/Inserter for sale or lease at a greatly reduced rate over buying brand-new. Please call us to learn more about how you can save time, money, and make your office a more productive environment.
609-927-6835
1/15/18
Major Rate Change on Sunday, January 21st, 2018. Will Effect Most Common Services. Please Download New Rate Software on Friday, January 19th.
The USPS is changing the pricing on many First Class mail types and services both for meter and Post Office customers.
Here's a summary of the most important changes:
Postage Type

Current Meter Price

$

Current Post Office Price

$

Meter Price as of 1/21/18

$

Post Office Price as of 1/21/18

$

Letter

.46 (+.21 per additional oz.)

.49 (+.21 per additional oz.)

.47 (+.21 per additional oz.)

.50 (+.21 per additional oz.)

Large Flat

.98 (+.21 per additional oz.)

.98 (+.21 per additional oz.)

1.00 (+.21 per additional oz.)

1.00 (+.21 per additional oz.)

Post Card

.34

.34

.35

.35

Priority Flat Rate Envelope

6.65

6.65

6.70

6.70

Certified

3.35

3.35

3.45

3.45

Return receipt

2.75

2.75

2.75

2.75
TO UPDATE THE RATES ON YOUR POSTBASE MACHINE:
Please do this on Friday the 19th, so you don't get stuck in the bogged down "system" Monday morning when EVERYONE else will be doing the download.

1) Make sure PostBase is plugged into your ethernet port or phone jack (if you use an analog modem). Do nothing if your machine has a WiFi modem.
-If it is NOT, plug it in, turn the machine off (silver button), turn it back on, then proceed to next step.
2) Press "Menu" then scroll over to "Remote Services"
3) Let it download
4) Follow any on-screen instructions.
5) If the new rates do not show up on your machine Monday, please press "Menu" then "Download". Type in "$0". Follow any on-screen instructions.
If you get a "Network" or "Communication" Error, try again in a few minutes. If it happens again, check connection, turn off machine, turn back on, and try once more.
If you have any issues, please give us a call at 609-927-6835 or 609-214-6000.
Here's a PDF and link if you'd like to see the details:
8/23/17
Rate Change is Coming (for One, Specific Service)
This change will affect very few postage meter users. On September 3, 2017, the USPS is making a small change to the way "Parcels" are shipped.There will be a rate increase on First-Class Mail® Parcels (FCM Parcels) by a weighted average of 9.9 percent, effective September 3, 2017. Parcels are bulky packages (think small boxes) that are also under 13oz.
The Postal Regulatory Commission's approved the reclassification of First-Class Mail Parcels as retail prices for First-Class™ Package Services (FCPS). FCPS allows you to ship light packages weighing under 16 ounces. Prices within the new Retail category are available for items weighing not over 13 ounces and will range between 14 percent and 31 percent higher than Commercial (CBP) prices. Note: Signature Confirmation has always been available for FCM Parcels and will continue to be an option.
To download the rate change, please press: menu->remote services and allow the packet to load. If the new rate does not kick-in on September 3rd (1oz. -3oz parcels (to check, see that 1oz-4oz Parcels increased from $2.67 to $3.00). If you have any questions, please call Caitlin at 609-214-6000.
6/23/17
Notary Services
As of July 2017, we can now off our customers a new convenience: Free Notary Services. If you have any questions, please call 609-214-6000
3/3/17
A New Guide to Postage Rates
Ever confused about what fees apply for various services? Confused as to the difference between Priority and Flat Rate? Download this guide to help learn the ins and outs of postage!
2/14/17
360 Business Solutions has Recently Expanded Our Territory
At the beginning of this year, FP granted 360 Business Solutions with a larger territory. In addition to South Jersey and New Castle County in Delaware, we now service Berks, Bucks, Chester, Lancaster, Lehigh, Montgomery, Northampton, and Schuylkill Counties in Pennsylvania. Additionally, we are now Pennsylvania State-Contract certified vendors through the FP Dealer Network.
1/10/17
Rate Change is Almost Upon Us
The rate change does not occur until Sunday, January 22nd, but as of today, FP has yet to make the software available for downloading the new rates. They are expected to be released by Thursday or Friday the 19th/20th. We highly recommend downloading the update BEFORE Monday, since the system sometimes gets bogged down with so many people trying to contact the servers at once. As soon as the software becomes available, I will post and email detailed instructions on how to perform the update. It's very simple, especially on the PostBase model machines.
If you have any questions, please give Caitlin a call.
11/22/16
Rate Changes Coming in January
And some rates are dropping!

We have just been notified that a rate change is coming on Sunday, January 22nd, 2017. Some of the changes include:

Letters are dropping by 1/2 of a cent and large flats are dropping by 4 cents. Those are the two changes that will effect most customers.

When the software is released by FP for your machines, I will be sending out a blast email (expect around January 15th) with specific, simple instructions on how and when to download it.
Please be sure to allow emails from CP@360BusinessSolution.net to come through your email filters. Thank you!
11/4/16
Welcome, New Customers!
Dear New 360 Business Solutions Customers,
We at 360 Business Solutions are very happy to welcome you to our ever-growing family of satisfied customers. Perhaps by now, our Pennsylvania clients have received a letter from FP notifying you that we are now your new Authorized FP Dealer. That means you can call us for anything involving your postage and shipping needs, from billing questions to service calls, and anything in between.
We take great pride in being a family owned and operated business, where every day we strive to not just provide the most advanced mailing equipment on the market, but also provide our customers with outstanding, attentive service. Because of our exemplary record of this, FP has continually expanded our territory -which you are now a part of.
When you get a moment, I urge you to please explore our website to find out more about who we are, and also provide us with accurate contact information at the above "Customer Info" tab. Accurate information is crucial in our communications. We will occasionally send emails to all of our customers informing them of rate changes and other important notifications about your postage equipment. Also, please add our email addresses to your spam filters, so our emails reach your inbox (bp@360BusinessSolution.net, cp@360BusinessSolution.net, and all emails from an @FP-USA.com address).
If you have any questions, please contact Bill or Caitlin at 609-927-6835 or 609-214-6000. We look forward to hearing from you and cultivating a positive relationship.
Sincerely,
Bill Peraria and Caitlin Peraria
10/10/16
Price Increase on Ink and Labels
Effective immediately, the price for ink and labels is increasing between $4 and $10, depending on the product. This is due to a rapid and dramatic increase in our shipping and delivery costs. For a long time, we tried to keep our prices down, but it is no longer possible for our family owned and operated business.
However, many of our customers are eligible for contract renewals that will include free ink and/or labels for the duration of the contract. Please call us to find out whether or not your organization can take advantage of this benefit.

9/28/16
Have a Misprint?
Did you print the wrong amount of postage? Did an envelope or label get stuck in the machine and the print is unusable? Please go to this website to learn more about how to get your money back from the USPS! http://www.fp-usa.com/support/postage-refunds-spoiled-postage/
7/21/16
Folder/Inserter Sale Going On from July 21st to July 31st
From Thursday, July 21st to Sunday, 31st, 360 Business Solutions is holding a sale on ALL folder/inserters and folding machines. Browse our Products page to and FP's website (and here) to learn more about all of the options available. There are models for every need and budget! Contract must be signed by July 31st. Please call for more details.
7/11/16
Label Day Sale Coming Soon!
From Monday, August 29th to Friday, September 2nd, buy one box of labels and receive the second at 50% off. To be eligible for the discount, your order must be placed on our online shopping portal. All information must be filled out on the order page, including a contact name and email address, and order must be placed by 11:59 pm on 9/2/16. Remember, you do not pay via the website, rather you just place the order. You are invoiced upon delivery, and we accept check, cash, credit card, or government P-card.
Please call if you have any questions!
6/1/2016
New Ways to Pay
For any ink or label purchase, we now accept credit card as a form of payment (and P-cards for government entities)! If that makes accounting easier for your office, please let us know and we are happy to oblige.
Also, please go to the "Customer Info" tab above and update your latest contact information. With accurate email addresses, we are able to better inform you of software updates, supply sales, and any other pertinent information. Please also be sure any emails from CP@360BusinessSolution.net, BP@360BusinessSolution.net, or __@FP-USA.com are not being pushed to your spam or bulk mail inboxes.
4/6/16
THE RATE UPDATE IS AVAILABLE!
As of yesterday, 4/5/16, the newest rate update has become available for those with PostBase and OptiMail 30 postage machines. The new rates (rate decreases!) will not take effect until April 10th, but the software is available to DOWNLOAD NOW. I highly recommend you download it today, or at least some time before the 10th, because on Monday morning the 11th, I would bet that the system will be overloaded and connecting/downloading will not be quick and easy. If you download the update now, it should click in and be correct when you walk in Monday morning, however if it is not, you can download $0 of postage, and it should then be correct.
PLEASE FOLLOW THIS LINK to learn how to download the rates: http://www.fp-usa.com/ratechange/ratechange-update/ It even has videos! On the machines with color touch screens (PostBase models), it is as simple as pressing MENU-> REMOTE SERVICES-> then following any on-screen instructions.
Those of you whom have "custom pre-sets" for common postage on the screen MAY not see the rates updated on the icons. If this is the case, please call Bill or Caitlin and we will get that sorted out. You may have to use the "Product" menu temporarily to calculate postage.
As always, if you have any questions or problems, please do not hesitate to contact us via email (BP@360BusinessSolution.net or CP@360BusinessSolution.net) or phone (Bill at 609-927-6835 or Caitlin at 609-214-6000).
Note: Customers with machines other than the PostBase or OptiMail 30 will be contacted by us directly. Your process to download postage is different than the aforementioned instructions.
3/10/16
News, Website Additions, and Other Information
The

postage rate is set to DECREASE on April 10, 2016

. Please read the section below dated "3/7/16" for further information.
There have been a few new additions to this website. Now, there is a page where you can download documents pertaining to the usage of your postage machine (including Cheat Sheets), postage funding, and other forms. Visit the "Documents" tab above to view more. Also, a page where customers can update their contact information has been added. Email is our most frequently used method for contacting our customers about rate changes, software updates, supply sales, etc. Please visit the above "Customer Info" tab to tell us whom to communicate with at your organization and how to contact them. Recently, we went through all of our customer files to be sure we had the latest information in our databases -unfortunately, a some of the email addresses were incorrect or incomplete. If you have not received an email from us in the past month, please update this information and be sure your spam filters are not blocking mail from CP@360BusinessSolution.net, BP@360BusinessSolution.net, or (name here)@FP-USA.com.
Lastly, I have been getting some inquiries about the impending rate change. There appears to be some confusion and incorrect rumors. You will receive an email from us as soon as we know when the software will be released. That email will contain instructions on how to download the new rates and when to do it.
Note: Our "Buy one box of labels, Get the second free," promotion is going until March 15th. All orders placed on or before March 15th will have this special pricing honored.
3/7/16
Postage Rate DECREASE coming April 10th, 2016
Yes, you read that right: a DECREASE. On April 10th, a rate change is coming, It will roll back the prices on some First Class Mail (letters, large flat envelopes, postcards), but not Priority Mail and other services. Generally, the decrease will be around 4.3%. Letters will drop from $0.485 to $0.465, large flats $0.98 to $0.94, and postcards $0.35 to $0.34. All PostBase models (if you have a color touch screen, it's a PostBase) will be able to accept this decrease, but some particular models of older products (select MyMail, OptiMail, and UltiMail), may not. For those specific customers, I will be in contact.
Just like any rate change before, those with PostBase models will just need to connect their machines to their network, press MENU -> Remote Services, and run the download. That's it! I will be sending out an email to all customers that will include full instructions on how to do this and when as the date approaches. If you have not received an email in the past month from me, please be sure to go to our "Customer Info Update" page, found here, and allow your spam filters to accept emails from CP@360BusinessSolution.net, BP@360BusinessSolution.net, and anything coming from ____@FP-USA.com.
Please see these links for more information about this rate change:
2/29/16
Sale on Labels!
Order labels between now and March 15th, and receive a second box at 50% off. The labels must be ordered via this website. Please click here to buy.
12/29/15
RATE CHANGES ARE COMING!!!
On January 17th, new USPS rates are coming into effect. Most of the changes are small and are mostly in Priority Mail, and Regional Rate shipping. The MOST IMPORTANT and prominent change is good news: First Class Mail will now be up to 15.999 oz, an increase of 3 oz, from the current 12.999 oz. Fewer large envelopes will be sent as Priority.
In order to prepare, please check these pages for instructions and an overview (by Friday, January 15th): FP-USA.com/Instructions and FP-USA.com/NewRates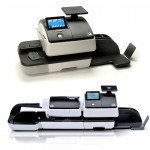 If you have a PostBase or Optimail 30 machine, the changes will be downloaded over Ethernet or analog phone line.
If you have an UltiMail or CentorMail machine, the rate update will come as a card -which we, your Authorized Dealer, possess and will install for you.
If you have any questions, please feel free to contact Caitlin at 609-214-6000 or CP@360BusinessSolution.net
5/21/15
Rate Changes Are Coming
We have recently been informed that the postage rate increase is happening on May 31st. Please visit HERE to learn more about these changes, and HOW TO LOAD the new rates onto your machine.
For those with PostBase machines, the update can be done over the Ethernet or phone line. For those with UltiMail, OptiMail, or CentorMail machines, you must use the chip card, which will be coming in the mail shortly.
Select which machine you have, then follow the simple directions. Of course, if you have any issues with this process, please call Bill at 609-927-6835 or Caitlin at 609-214-6000. We will gladly walk you through.
4/8/2016
Rate Updates Have Been Indefinitely Postponed.
According to a new FP release, the USPS has postponed their April 26th rate increase indefinitely. There were apparently a lot of complications with such incremental changes. However, do (most likely) expect some sort of rate change by the end of the year. I will keep customers updated via email and through this website as changes occur. Thank you for your patience!
3/27/15
A RATE UPDATE IS COMING!!!
On April 26th, a new rate table will take effect for those with postage machines. Put briefly, the cost of a First Class envelope is increasing one-half of a cent, from 48 to 48.5. The cost of other services is also raising. However, the cost of a stamp at the Post Office is remaining at 49 cents.
Here is a link to the bulletin on FP's website:
http://www.fp-usa.com/ratechange/rate-change-april-2015/
The good news is that all of the FP postage meters 360 Business Solutions has supplied over the past few years are capable of computing the .5 cent change (unlike some other companies' older models. Aren't you glad you switched to FP?). You have nothing to worry about.
When we know the release date of the software, we will write another email detailing how to do this rate change. It will be only three very simple steps. And as usual, 360 Business Solutions is here to help you with any and all aspects of this change, should it be needed.
If you have any questions, please do not hesitate to contact us.
PLEASE CHECK BACK IN APRIL FOR INSTRUCTIONS ON HOW TO UPDATE YOUR POSTAGE MACHINE!
Thank you for your time, business, and loyalty. We are very fortunate to have the best customers around!
3/13/15
SALE ON LABELS
360 Business Solutions is having an "End of the Quarter" sale on all postage machine labels. Buy one box, get the second for 25% off. Runs now until 5pm on March 31st. Please call or email us to place your order!
3/1/15
Your Mail is About to Get Smart
The USPS is unleashing a new program called "IMPB" (Intelligent Mail Package Barcode). It is a digital labeling system for sending items that are not "First Class" (AKA over 13 ounces). IMPB has a lot of advantages, including a reduced rate on many types of shipping and services, automatically created barcodes for tracking, and 4″x6″ labels containing all of the shipping information. Best of all, the system for creating them is easy to use, inexpensive, and can be integrated seamlessly into your mail room.
Please give us a call for more details.